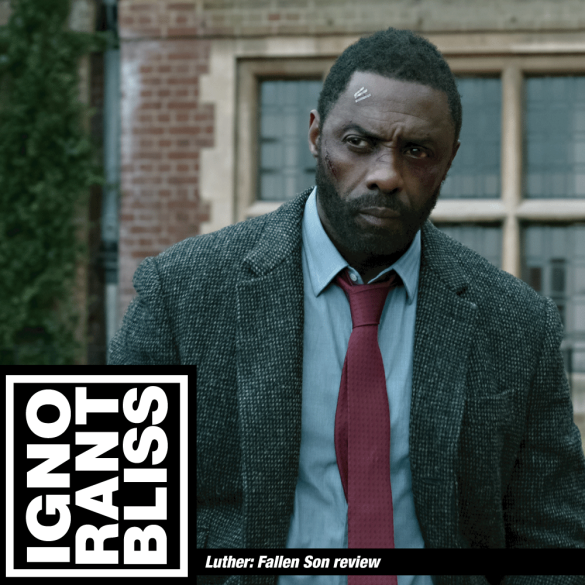 Now I'll be honest and say I'm not a huge Luther fan. While I know it exists, it isn't something that really ever made me want to watch. Idris Elba as a tortured, genius detective that hunts serial killers is a dope idea, but that first episode almost put me to sleep, and I like UK stuff.
I was raised watching BBC shows on PBS growing up, but the show, with its similarities to Sherlock Holmes, just left me cold as it constantly grew in popularity. Yet I took a gamble and saw the new film Luther: Fallen Sun. In this film, John Luther (Idris Elba) is disgraced by a new serial killer David Robey, played by Andy Serkis, as he was getting too close to him. Luther, determined to find this killer as he taunts in him, jail escapes prison and is on the run from the new detective in charge, DCI Odette Raine (Cynthia Erivo), who is now hunting down Luther and Robey. Not going to lie; that's the one thing that I found a bit funny, the dedication of the Police to get Luther, who's basically better than all of them. At the same time, he searches to stop and catch the serial killer was weird, but I think that's just my American skepticism of our Police. The film is pretty good visually and feels like a step up from the little I've seen from the TV series. The performances are all great, but I think that should be expected from this cast of current brit greats.
The story is easy to follow, even if you can tell what will happen. Serkis, of course, is such a force as a bad guy because you know he's great at playing villains, and this villain is especially terrible. Erivo is great as the by-the-book new head cop trying to solve this case and catch Luther. I think this story which was probably thought of as a future season, is better served as just this film, and it was enjoyable in this form versus many hours to tell this story.
B
Podcast: Play in new window | Download
THANK YOU TO ALL THE SUPPORTERS ON PATREON!
Early access & more on Patreon: https://www.patreon.com/julianlytle
email the show at ignorantblisspodcast at gmail dot com
Get at me @julianlytle on Twitter, IG, Snapchat, Tumblr, Soundcloud
Subscribe on Apple Podcasts – https://itunes.apple.com/us/podcast/ignorant-bliss-podcast-feed/id415595194?mt=2 also please leave a review if you can!
On Spotify – https://open.spotify.com/show/3No8E3EpindiqvYUkMeNAr?si=DcIONPLAR5uHEVOHQ-32gQ
Also on Stitcher – http://www.stitcher.com/podcast/ignorant-bliss
Also on Soundcloud – https://soundcloud.com/julianlytle
Also on Google Podcasts – https://podcasts.google.com/feed/aHR0cHM6Ly9pZ25vcmFudC1ibGlzcy5jb20vZmVlZC9wb2RjYXN0Lw?sa=X&ved=0CAcQrrcFahcKEwi4_r7Vsdr9AhUAAAAAHQAAAAAQLA
Podcast: Play in new window | Download