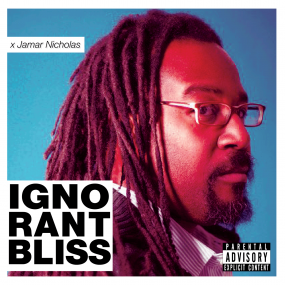 This episode I'm talking with the great cartoonist, teacher and Philly native Jamar Nicholas. This was a fun episode where we cover all types of topics – old video games, table top gaming, going to arcades in the hood back in the 90s, black folks and being a cartoonist as a whole.
Plus some thoughts on King Arthur: Legend of the Sword and Alien: Covenant.
Link to Nothing's On podcast about King Arthur I mentioned in the podcast:
http://jamarnicholas.blogspot.com/
https://twitter.com/jamarnicholas
Music in this episode:
You Are Luhhh – Frank Ocean
Gospel – Rich Chigga feat. XXXTentacion and Keith Ape
What Gets You High – Osunlade
Big Fish – Vince Staples
Summer Seventeen – Rick Ro$$
All the music copyright their respective owners
Spring Playlist:
Spotify: https://open.spotify.com/user/julianlytle/playlist/40TYkVePAj4nwRkzzKo5of
Apple Music: https://itunes.apple.com/us/playlist/ignorant-bliss-2017-spring-szn-playlist/idpl.739e8cf1e42444ab9a6f2d0f900b68ab
Get at me @julianlytle on Twitter, IG, Snapchat, Tumblr, Soundcloud
My webstore: http://julianlytle.storenvy.com/
My threadless Artist Shop: https://julianlytle.threadless.com/
email the show at ignorantblisspodcast@gmail.com
Subscribe on iTunes – https://itunes.apple.com/us/podcast/ignorant-bliss-podcast-feed/id415595194?mt=2 also please leave a review if you can!
Also on Stitcher – http://www.stitcher.com/podcast/ignorant-bliss
Also on Soundcloud – https://soundcloud.com/julianlytle
Also on Google Play Music – https://play.google.com/music/m/Ipbp7daje4f62qiyzyfujoxhpwi?t=Ignorant-Bliss
Also on Mixcloud – https://www.mixcloud.com/julianlytle/
Also on the Taylor Network of Podcasts – http://taylornetworkofpodcasts.com/?s=ignorant+bliss&submit=Search
Also on BlogTalkRadio – http://www.blogtalkradio.com/ignorantbliss
Podcast: Play in new window | Download
Podcast (podcast-b): Play in new window | Download