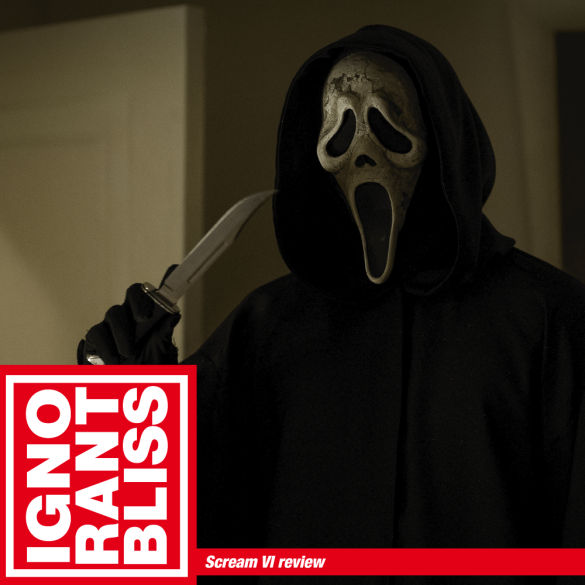 I didn't get a chance to watch Scream, aka Scream 5, last year, but after the teasers and trailers for Scream 6, which takes place in Manhattan, it not only made me want to go and see this movie and also made me want to go back and watch the last one.
With strong Jason takes Manhattan vibes from the trailer, the second in what in the universe calls this era of Scream a "requel" franchise does improve on the last one and does well by this new generation of Scream, and its more recent fans. Here we have sisters Sam (Melissa Barrera) and Tara (Jenna Ortega)back after the events of the last film, now with Tara in college with survivors and friends, the twins Mindy (Jasmin Savoy Brown) and Chad (Mason Gooding). Sam is still struggling with her past, her connection to Billy Loomis (Skeet Ulrich), and the fame from surviving a Ghostfaceserial murder event. Still, unlike the previous hero Sidney Prescott, Sam is actually hated by the public. People think she's the killer instead of the real killers from the last film. An interesting flip as a new Ghostface killer is in NYC chasing after Sam, and Tara now has a new playground of being in a full city instead of the quiet suburbs. It has a pretty hectic pace and is able to build tension and a new harshness to all the kills, even more than the last one. Not many huge jumpscares, but it's still engrossing, and you want to see how this group gets picked off, along with trying to make out who the killer is. The meta-ness of the franchise is back in full force, and this one reference Scream 2 just as 5 did the first film. It's good to see Hayden Panettiere back as Kirby Reed from 4 and, of course, Courtney Cox as the OG GaleWeathers. All the actors do great here, and I think overall, Scream is back for real, and I'm ready for a 7.
B+
THANK YOU TO ALL THE SUPPORTERS ON PATREON!
Early access & more on Patreon: https://www.patreon.com/julianlytle
email the show at ignorantblisspodcast at gmail dot com
Get at me @julianlytle on Twitter, IG, Snapchat, Tumblr, Soundcloud
Podcast: Play in new window | Download
Subscribe on Apple Podcasts – https://itunes.apple.com/us/podcast/ignorant-bliss-podcast-feed/id415595194?mt=2 also please leave a review if you can!
On Spotify – https://open.spotify.com/show/3No8E3EpindiqvYUkMeNAr?si=DcIONPLAR5uHEVOHQ-32gQ
Also on Stitcher – http://www.stitcher.com/podcast/ignorant-bliss
Also on Soundcloud – https://soundcloud.com/julianlytle
Also on Google Podcasts – https://podcasts.google.com/feed/aHR0cHM6Ly9pZ25vcmFudC1ibGlzcy5jb20vZmVlZC9wb2RjYXN0Lw?sa=X&ved=0CAcQrrcFahcKEwi4_r7Vsdr9AhUAAAAAHQAAAAAQLA
Podcast: Play in new window | Download