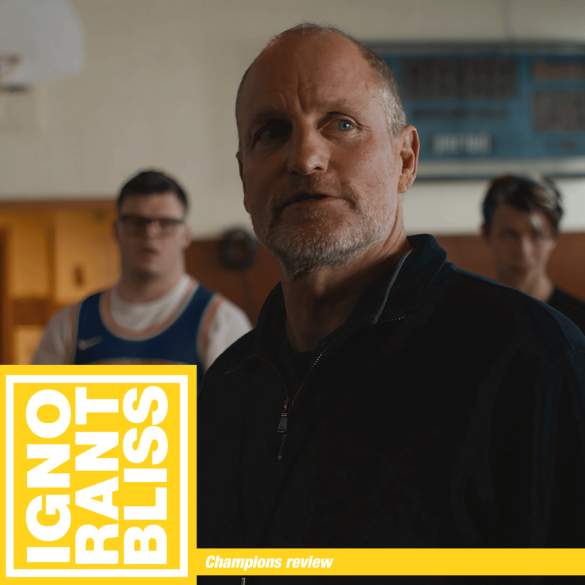 People, we finally have Woody Harrelson back in a basketball movie!!!
In this film, Champions Harrelson plays Marcus, a G-League assistant basketball coach. After blowing up on his head coach (played by Ernie Hudson) and getting a DUI, he does community service. That community service is coaching a team with intellectual disabilities. The movie starts out a little slow in terms of enjoyment, but once it gets into its second act, it really comes together. You really get the charm of not only Marcus but of all the players. What is a new take for me is that this shows people with disabilities not as children but older as young adults—folks with jobs and love lives and everything. I really enjoyed that because I'm so used to the focus of these movies being children or young high schoolers that I felt this movie was going to be a bit rote. Harrelson's Marcus does have a love interest in Alex, played by Kaitlin Olsen – a sister of one of the players on the team. It doesn't overstay its welcome or take too much away from the main plot. The movie is very funny and heartwarming and does well in being a good basketball sports movie.
B
Podcast: Play in new window | Download
THANK YOU TO ALL THE SUPPORTERS ON PATREON!
Early access & more on Patreon: https://www.patreon.com/julianlytle
email the show at ignorantblisspodcast at gmail dot com
Get at me @julianlytle on Twitter, IG, Snapchat, Tumblr, Soundcloud
Subscribe on Apple Podcasts – https://itunes.apple.com/us/podcast/ignorant-bliss-podcast-feed/id415595194?mt=2 also please leave a review if you can!
On Spotify – https://open.spotify.com/show/3No8E3EpindiqvYUkMeNAr?si=DcIONPLAR5uHEVOHQ-32gQ
Also on Stitcher – http://www.stitcher.com/podcast/ignorant-bliss
Also on Soundcloud – https://soundcloud.com/julianlytle
Also on Google Podcasts – https://podcasts.google.com/feed/aHR0cHM6Ly9pZ25vcmFudC1ibGlzcy5jb20vZmVlZC9wb2RjYXN0Lw?sa=X&ved=0CAcQrrcFahcKEwi4_r7Vsdr9AhUAAAAAHQAAAAAQLA
Podcast: Play in new window | Download