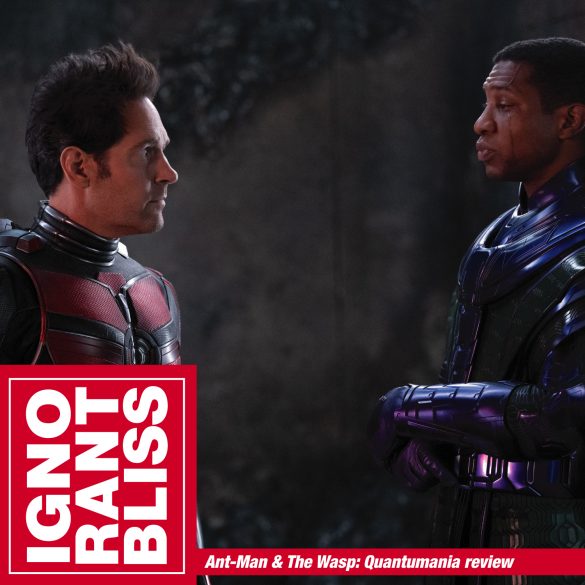 Sigh, here we are again, with me seeing and reviewing another entry of the Marvel Cinematic Universe. This episode focuses on Scott Lang, played by Paul Rudd, who is also Ant-Man, and The Wasp, aka Hope Van Dyne, played by Evangeline Lily. Way after the events of Avengers: Endgame and somewhere in the current happenings around phase 4 into this new phase 5, everything is peaceful for the Ant-Man family except Cassie, who is turning 18 and wants to do a lot more than Scott would like her to do. He feels guilt for those missing five years and doesn't want to miss more. Meanwhile, Hope is still trying to connect with her mom Janet from her missing years lost in the Quantum Realm. After finding out Cassie has been trying to study the Quantum Realm with a device she created with help from Hank (Michael Douglas) and Hope which doesn't make Scott or Janet happy, the whole family is sucked into the Quantum Realm from some unknown force. Now Scott has to find everyone and figure a way home while Janet is on the run from Kang the Conquerer, who they learn is ruling over the realm with an iron fist.
Okay, so the issue I have with this movie is, like many others is, how run-of-the-mill it is. It does feel like a shortened Disney+ show. The film tends to be slow and moves through things too fast simultaneously. The story feels a bit light, even with all the looks of adventure. The production design doesn't work much for me as there are times when you see really creative and brightly designed locales and characters and then others that feel like a generic alien landscape in others or just sci-fi base jail. The color of the film is very dark than what I expect from an MCU project, where it's usually just flat or a bit gray versus a more DCEU dark look to the movie. Most of the characters have a very one-note direction in the movie – Scott just wants to get his daughter home, Hope wants to know more from her mom, Hank is just riding along, etc. Jonathan Majors as Kang and Michelle Pfeiffer as Janet bring some good performances here, with their acting adding a lot to their characters that aren't there in their dialogue. Then we have MODOK, who is mostly here as a joke and a complete reimaging of the character, but how he looks does it zero favors. While it's still a big head with little arms and legs and flying around, the design and execution to me made it look like an upscaled N64 character model on the screen of this 200-million-dollar movie. I was just disappointed every time he was on the screen. I will give them kudos for having Kang look like classic Kang and it being one of the best and most accurate comics to screen I've ever seen.
I can't say I wished I'd liked it more, but I do think this movie isn't even in the usual standard of MCU entries as this was a movie that just had Kang on screen more than telling a good and fulfilling story and one worthy of Ant-Man and the Wasp standing on its own.
Rating: D
THANK YOU TO ALL THE SUPPORTERS ON PATREON!
Early access & more on Patreon: https://www.patreon.com/julianlytle
email the show at ignorantblisspodcast at gmail dot com
Get at me @julianlytle on Twitter, IG, Snapchat, Tumblr, Soundcloud
Subscribe on Apple Podcasts – https://itunes.apple.com/us/podcast/ignorant-bliss-podcast-feed/id415595194?mt=2 also please leave a review if you can!
On Spotify – https://open.spotify.com/show/3No8E3EpindiqvYUkMeNAr?si=DcIONPLAR5uHEVOHQ-32gQ
Also on Stitcher – http://www.stitcher.com/podcast/ignorant-bliss
Also on Soundcloud – https://soundcloud.com/julianlytle