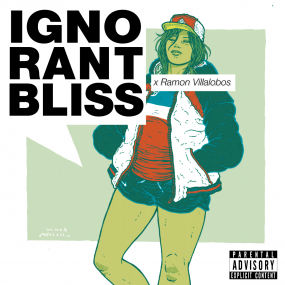 This episode is with rising star Ramon Villalobos currently artist on the Marvel Secret Wars title E for Extinction. This episode was recorded in July a little before San Diego Comic Con. In this we talk about Yeezys, growing up as an Mexican American, representation in comics and media, pop culture influences, attitudes in doing comic art, Grant Morrison's Batman and New Gods and of course rap music.
Follow Ramon:
https://twitter.com/RamonVillalobos
http://ramonvillalobos.tumblr.com/
https://instagram.com/theramonvillalobos/
buy art from Ramon:
https://society6.com/ramonvillalobos
http://www.redbubble.com/people/ramonvillalobos/shop
Music theme this episode – Kanye West:
Late – Kanye West – Late Registration
Jukebox Joints (2nd half) – A$AP Rocky featuring Kanye West from At.Long.Last.A$AP
Christian Dior Denim Flow – Kanye West featuring Kid Cudi, Pusha T, John Legend, Lloyd Banks, & Ryan Leslie – GO.O.D. Fridays
All Day – Kanye West featuring Theophilus London, Allan Kingdom & Sir Paul McCartney – SWISH
All Your Fault – Big Sean Featuring Kanye West – Dark Sky Paradise
Don't Stop – C.R.S. (Child Rebel Solider: Kanye West, Pharrell, Lupe Fiasco) – G.O.O.D. Fridays
Wolves – Kanye West

 

featuring Sia and Vic Mensa
Can't Tell Me Nothing – Kanye West – Graduation
All the music copyright their respective owners
Get at me @julianlytle on Twitter, Instagram, Snapchat, Tumblr, Soundcloud & Vine
Subscribe on iTunes also please leave a review if you can!
Also on Stitcher
Also on Soundcloud
Also on the Taylor Network of Podcasts
Podcast: Play in new window | Download