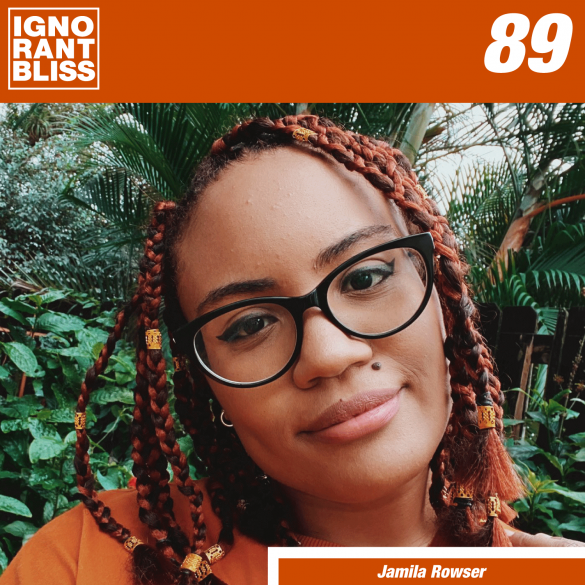 A recording from the lost year of 2020 here is two conversations I had with Jamila Rowser, comic book writer, and publisher. We catch up (at the time) on how life is as a rising talent in comics and publisher in this comics industry. We also talk about the upcoming graphic novel Wash Day Diaries with Robyn Smith spinning off from their comic book Wash Day. 
Music in this episode:
You Are Luhhh – Frank Ocean
On The Pulse – Ghost Beatz
All the music copyright their respective owners
THANK YOU TO ALL THE SUPPORTERS ON PATREON!
Early access & more on Patreon: https://www.patreon.com/julianlytle
email the show at ignorantblisspodcast@gmail.com
Get at me @julianlytle on Twitter, IG, Snapchat, Tumblr, Soundcloud
Fall Playlist:
Apple Music: https://music.apple.com/us/playlist/ignorant-bliss-awtmn-20-21/pl.u-NG654C0mglB
Spotify: https://open.spotify.com/user/julianlytle/playlist/2acV8YbH11uIqU9xaI5vUl?si=dVWWCL3TR0uD-lqbg5xT_A
Tidal: https://tidal.com/browse/playlist/59f88142-beb6-49c6-a217-9d9889427711
Subscribe on iTunes – https://itunes.apple.com/us/podcast/ignorant-bliss-podcast-feed/id415595194?mt=2 also please leave a review if you can!
On Spotify – https://open.spotify.com/show/3No8E3EpindiqvYUkMeNAr?si=DcIONPLAR5uHEVOHQ-32gQ
Also on Stitcher – http://www.stitcher.com/podcast/ignorant-bliss
Also on Soundcloud – https://soundcloud.com/julianlytle
Also on Google Play Music – https://play.google.com/music/m/Ipbp7daje4f62qiyzyfujoxhpwi?t=Ignorant-Bliss
Podcast: Play in new window | Download