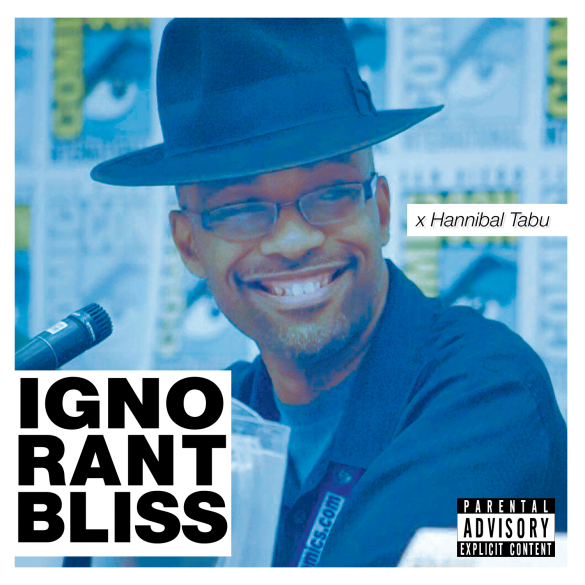 This episode I'm talking to writer Hannibal Tabu about his upcoming projects and his year reviewing comics and culture.
Music in this episode:
You Are Luhhh – Frank Ocean
Family Feud – JAY-Z
Blue Cheese – 2 Chainz feat. Migos
745 – Vince Staples
All the music copyright their respective owners
Summer Playlist:
Ignorant Bliss twitter: https://twitter.com/igblpodcast
Ignorant Bliss on Facebook: https://www.facebook.com/ignorantblisspodcast/
Get at me https://twitter.com/julianlytle, @julianlytle on IG, Snapchat, Tumblr, Soundcloud
Started a companion podcast called Ignorant Bliss Quickhit. It's on the Bumpers platform. You can subscribe here:
https://bumpers.fm/Ignorantbliss
My webstore: http://julianlytle.storenvy.com/
My threadless Artist Shop: https://julianlytle.threadless.com/
email the show at ignorantblisspodcast@gmail.com
Subscribe on Apple Podcasts –  also please leave a review if you can!
Also on Stitcher – http://www.stitcher.com/podcast/ignorant-bliss
Also on Soundcloud – https://soundcloud.com/julianlytle
Also on Google Play Music – https://play.google.com/music/m/Ipbp7daje4f62qiyzyfujoxhpwi?t=Ignorant-Bliss 
Also on Mixcloud – https://www.mixcloud.com/julianlytle/
Also on the Taylor Network of Podcasts – http://taylornetworkofpodcasts.com/?s=ignorant+bliss&submit=Search
Also on BlogTalkRadio – http://www.blogtalkradio.com/ignorantbliss
Podcast: Play in new window | Download