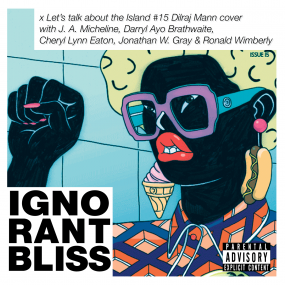 So when the last issue of the anthology comic Island was released and people saw the cover by the artist Dilraj Mann of a black woman rendered all in absolute black with red lipstick and door knocker earrings hit the internet it caused quite a stir. At the time Ronald Wimberly and I thought it would be worth a conversation. So I gathered some voices from the online debate and some others we knew to have a conversation about his cover, art, editorial practices in comics and voices of black women within the comic industry.
J. A. Micheline: https://twitter.com/elevenafter  https://ko-fi.com/elevenafter
Darryl Ayo: https://twitter.com/darrylayo  http://littlegardencomics.com/
Cheryl Lynn: http://digitalfemme.com/
Jonathan: https://twitter.com/elmcitytree  https://elmcitytree.wordpress.com/
Ronald: https://twitter.com/raynardfaux  http://d3-14.tumblr.com/
Music in this episode:
You Are Luhhh – Frank Ocean
Rise – Solange
Joy – Leven Kali
Boo You Know – Falcons feat. Goldlink
Guillotine – Buddy
Cool Kids – Kwaye
All the music copyright their respective owners
Summer Playlist:
Ignorant Bliss twitter: https://twitter.com/igblpodcast
Ignorant Bliss on Facebook: https://www.facebook.com/ignorantblisspodcast/
Get at me https://twitter.com/julianlytle, @julianlytle on IG, Snapchat, Tumblr, Soundcloud
My webstore: http://julianlytle.storenvy.com/
My threadless Artist Shop: https://julianlytle.threadless.com/
email the show at ignorantblisspodcast@gmail.com
Subscribe on iTunes – https://itunes.apple.com/us/podcast/ignorant-bliss-podcast-feed/id415595194?mt=2 also please leave a review if you can!
Also on Stitcher – http://www.stitcher.com/podcast/ignorant-bliss
Also on Soundcloud – https://soundcloud.com/julianlytle
Also on Google Play Music – https://play.google.com/music/m/Ipbp7daje4f62qiyzyfujoxhpwi?t=Ignorant-Bliss
Also on Mixcloud – https://www.mixcloud.com/julianlytle/
Also on the Taylor Network of Podcasts – http://taylornetworkofpodcasts.com/?s=ignorant+bliss&submit=Search
Also on BlogTalkRadio – http://www.blogtalkradio.com/ignorantbliss
Podcast: Play in new window | Download
Podcast (podcast-b): Play in new window | Download