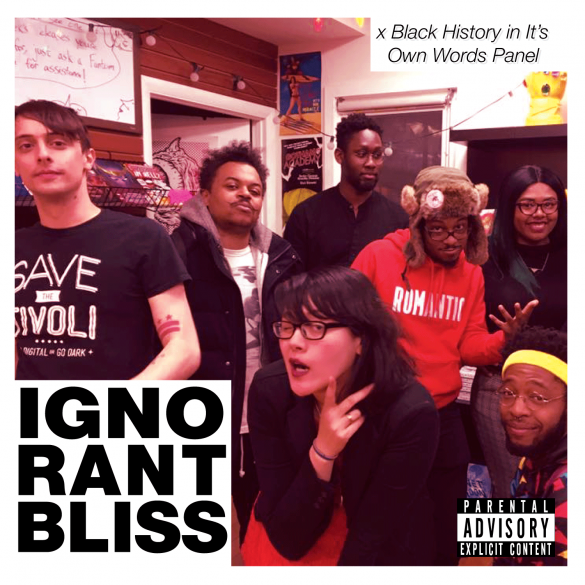 Here in this episode is my quick review of the new movie version of Power Rangers then the complete recording of the Black History in It's Own Words signing panel with Ronald Wimberly, Chris Visions, Chris Kindred, and Shannon Wright at Fantom Comics in Washington DC from February 15th 2017.
Much thanks to Fantom Comics for hosting this panel.
Enjoy.
Follow folks:
Ronald Wimberly – Twitter @raynardfaux IG @ronaldwimberly
Chris Vision – Twitter @chrisvisi0ns IG @chrisvisions
Shannon Wright – Twitter @shannondrewthis IG @shannondrewthis
Chris Kindred – Twitter @itskindred IG @chris.kindred
Fantom Comics  Twitter @fantomcomics IG @fantomcomics
Music in this episode:
You Are Luhhh – Frank Ocean
Power (Remix) – Kanye West feat. Jay Z
Shining – DJ Khaled feat. Beyoncé and Jay Z
Hot Sauce – Young M.A.
Portland – Drake feat. Quavo and Travis Scott
Santorini Greece – Rick Ro$$
The Heart part 4 – Kendrick Lamar
All the music copyright their respective owners
Spring Playlist:
Spotify: https://open.spotify.com/user/julianlytle/playlist/40TYkVePAj4nwRkzzKo5of
Apple Music: https://itunes.apple.com/us/playlist/ignorant-bliss-2017-spring-szn-playlist/idpl.739e8cf1e42444ab9a6f2d0f900b68ab
Get at me @julianlytle on Twitter, IG, Snapchat, Tumblr, Soundcloud
My webstore: http://julianlytle.storenvy.com/
My threadless Artist Shop: https://julianlytle.threadless.com/
email the show at ignorantblisspodcast@gmail.com
Subscribe on iTunes – https://itunes.apple.com/us/podcast/ignorant-bliss-podcast-feed/id415595194?mt=2 also please leave a review if you can!
Also on Stitcher – http://www.stitcher.com/podcast/ignorant-bliss
Also on Soundcloud – https://soundcloud.com/julianlytle
Also on Google Play Music – https://play.google.com/music/m/Ipbp7daje4f62qiyzyfujoxhpwi?t=Ignorant-Bliss
Also on Mixcloud – https://www.mixcloud.com/julianlytle/
Also on the Taylor Network of Podcasts – http://taylornetworkofpodcasts.com/?s=ignorant+bliss&submit=Search
Also on BlogTalkRadio – http://www.blogtalkradio.com/ignorantbliss
Podcast: Play in new window | Download
Podcast (podcast-b): Play in new window | Download