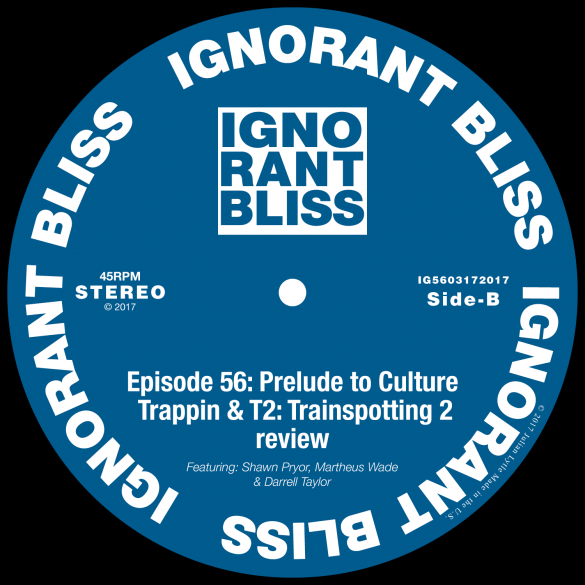 On the second part of the episode, we continue to talk about Darkseid and some of the stories with him being the biggest bad. Next, we talk about Marvel Captain American titles and some of the hiring practices on Marvel's titles. Which leads into a whole discussion on diversity, of creators in comics, superheroes movies, folks getting checks for their contributions, thoughts on the health of the industry of comics, juking the stats, making comics and promoting them and more.  Also, on this episode is my T2: Trainspotting 2review. This is part of two of a two part episode
Follow folks:
Shawn Pryor: https://twitter.com/shawnrpryor http://www.crowntakerstudios.com/
Martheus Wade: http://toshigawa.com/ https://www.patreon.com/MAWProductions
Darrell Taylor: https://taylornetworkofpodcasts.com/ https://twitter.com/taylornetwork?lang=en
Music in this episode:
You Are Luhhh – Frank Ocean
The Passenger – Iggy Pop
25 Lighters – DJ DMD featuring Lil' Keke and Fat Pat
Ching Ching – Ms. Jade featuring Timbaland and Nelly Furtado
Stars in the East – Tracey Lee featuring One Step Beyond
Dead Presidents 3 – Jay Z
All the music copyright their respective owners
Winter Playlist:
Spotify: https://open.spotify.com/user/julianlytle/playlist/0ijzdhNeLfxtacotm5VvwI
Apple Music: https://itunes.apple.com/us/playlist/ignorant-bliss-2017-winter/idpl.fa916ca6bc7345d087ba58e175df3ba6
Get at me @julianlytle on Twitter, IG, Snapchat, Tumblr, Soundcloud
My webstore: http://julianlytle.storenvy.com/
My threadless Artist Shop: https://julianlytle.threadless.com/
email the show at ignorantblisspodcast@gmail.com
Subscribe on iTunes – https://itunes.apple.com/us/podcast/ignorant-bliss-podcast-feed/id415595194?mt=2 also please leave a review if you can!
Also on Stitcher – http://www.stitcher.com/podcast/ignorant-bliss
Also on Soundcloud – https://soundcloud.com/julianlytle
Also on Google Play Music – https://play.google.com/music/m/Ipbp7daje4f62qiyzyfujoxhpwi?t=Ignorant-Bliss
Also on Mixcloud – https://www.mixcloud.com/julianlytle/
Also on the Taylor Network of Podcasts – http://taylornetworkofpodcasts.com/?s=ignorant+bliss&submit=Search
Also on BlogTalkRadio – http://www.blogtalkradio.com/ignorantbliss
Podcast: Play in new window | Download
Podcast (podcast-b): Play in new window | Download