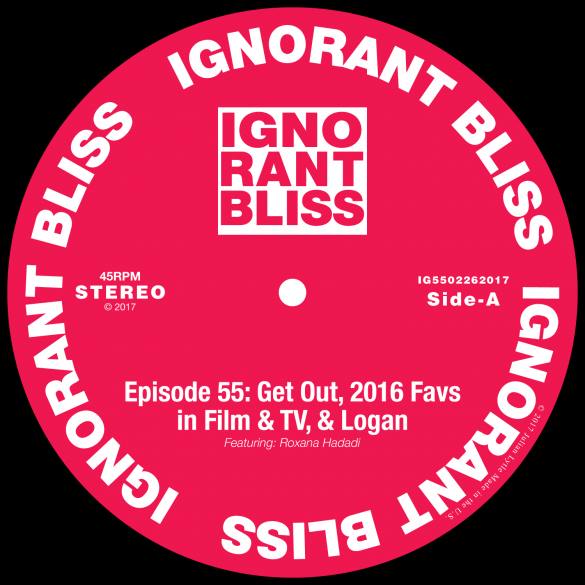 In this episode I review the new film Get Out by Jordan Peele starring Daniel Kaluuya, Alison Williams, Bradley Whitford and Catherine Keener. I talk with my friend and fellow film critic Roxana Hadadi about Film and TV in 2016 and awards season. Finally I review the film Logan by James Mangold starring Hugh Jackman, Sir Patrick Stewart and Dafne Keen.
Check out Roxana online:
https://twitter.com/roxana_hadadi
Music in this episode:
You Are Luhhh – Frank Ocean
Redbone – Childish Gambino
Paper Boi – Paper Boi (from the TV series Atlanta)
City of Stars – Ryan Gosling (La La Land soundtrack)
Surrender – Lalah Hathaway & Pharrell Williams (Hidden Figures soundtrack)
The Man Comes Around – Johnny Cash
All the music copyright their respective owners
Winter Playlist:
Spotify:

Apple Music:

Get at me @julianlytle on Twitter, IG, Snapchat, Tumblr, Soundcloud
My webstore: http://julianlytle.storenvy.com/
My threadless Artist Shop: https://julianlytle.threadless.com/
email the show at ignorantblisspodcast@gmail.com
Subscribe on iTunes – https://itunes.apple.com/us/podcast/ignorant-bliss-podcast-feed/id415595194?mt=2 also please leave a review if you can!
Also on Stitcher – http://www.stitcher.com/podcast/ignorant-bliss
Also on Soundcloud – https://soundcloud.com/julianlytle
Also on Google Play Music – https://play.google.com/music/m/Ipbp7daje4f62qiyzyfujoxhpwi?t=Ignorant-Bliss
Also on Mixcloud – https://www.mixcloud.com/julianlytle/
Also on the Taylor Network of Podcasts – http://taylornetworkofpodcasts.com/?s=ignorant+bliss&submit=Search
Also on BlogTalkRadio – http://www.blogtalkradio.com/ignorantbliss
Podcast: Play in new window | Download
Podcast (podcast-b): Play in new window | Download