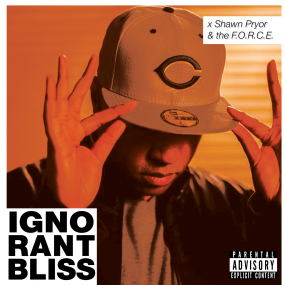 Here we have the 50th episode and the guest is my homie, Shawn Pryor. I'm talking to him about the release of Cash + Carrie, the release of the book Kentucky Kaiju and his new Kickstarter for F.O.R.C.E. – a football comic series. Along the ways, we also talk about music and pop culture in general plus working cons and selling comics.
Also of note thank you to everyone and anyone who listens to my podcast. You guys are sometimes the only reason I continue to make the show.
website: http://www.crowntakerstudios.com/
twitter: @shawnrpryor
F.O.R.C.E. Kickstarter:
Music in this episode:
You Are Luhhh – Frank Ocean
Way Too Gone (Instrumental) – Young Jeezy
Alright (Kaytranada flip)- Janet Jackson
Padeya – Spaceship Boi
Dang! – Mac Miller feat. Anderson .Paak
Father Stretch My Hands Pt. 1 (version 3) – Kanye West feat. Kid Cudi
GIRLS – Joey Purp feat. Chance the Rapper
Outta Sight/Dark Lavender Interlude – Big Baby D.R.A.M.
This Girl – Kungs vs Cookin on 3 Burners
Me and Your Mama – Childish Gambino
All the music copyright their respective owners
Get at me @julianlytle on Twitter, IG, Snapchat, Tumblr, Soundcloud & Vine
My webstore: http://julianlytle.storenvy.com/
My threadless Artist Shop: https://julianlytle.threadless.com/
email the show at ignorantblisspodcast@gmail.com
Subscribe on iTunes – https://itunes.apple.com/us/podcast/ignorant-bliss-podcast-feed/id415595194?mt=2 also please leave a review if you can!
Also on Stitcher – http://www.stitcher.com/podcast/ignorant-bliss
Also on Soundcloud – https://soundcloud.com/julianlytle
Also on Google Play Music – https://play.google.com/music/m/Ipbp7daje4f62qiyzyfujoxhpwi?t=Ignorant-Bliss
Also on Mixcloud – https://www.mixcloud.com/julianlytle/
Also on the Taylor Network of Podcasts – http://taylornetworkofpodcasts.com/?s=ignorant+bliss&submit=Search
Also on BlogTalkRadio – http://www.blogtalkradio.com/ignorantbliss
Fall Playlist:
Podcast: Play in new window | Download
Podcast (podcast-b): Play in new window | Download