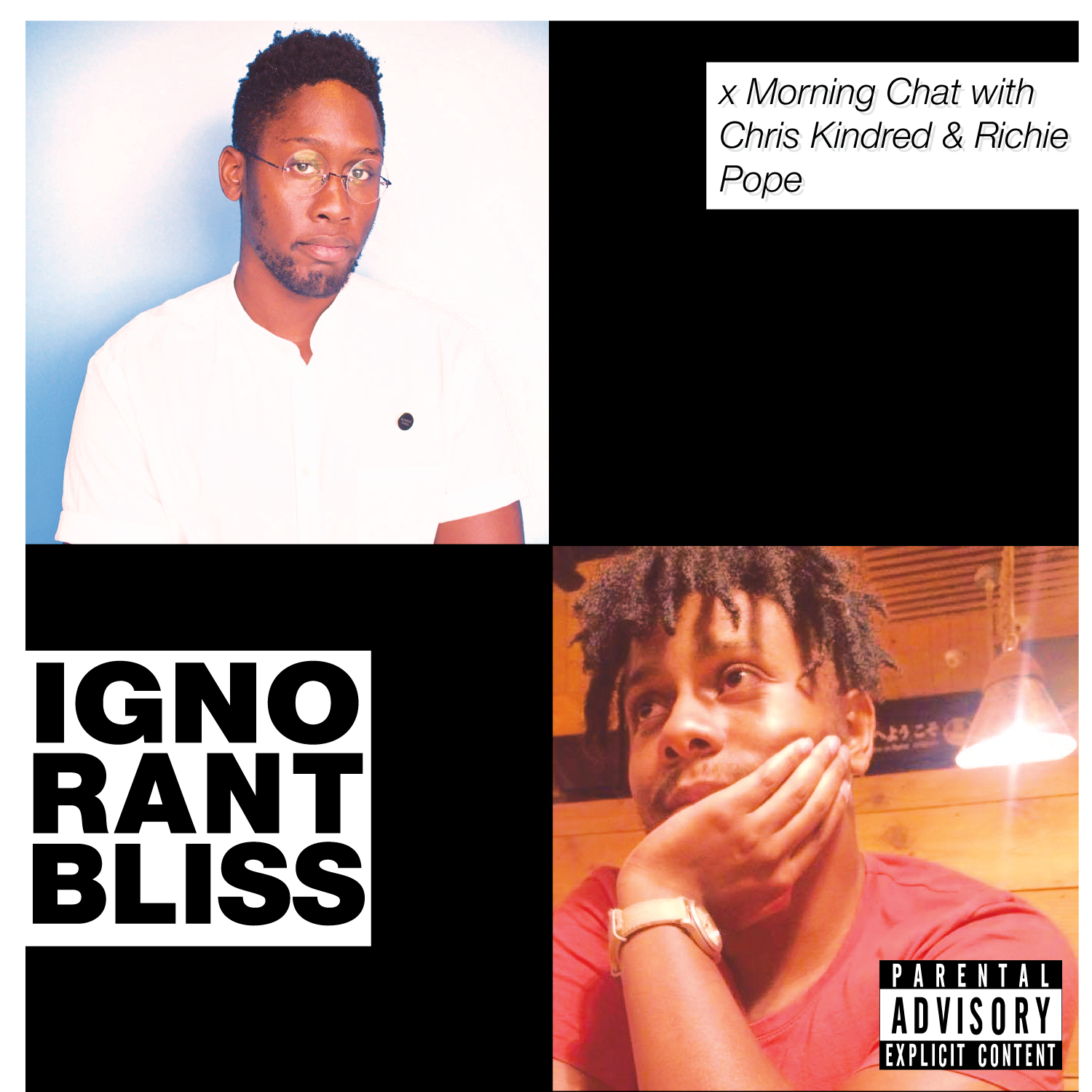 This episode is with Chris Kindred and Richie Pope. Two serious newly recognized talents in this comics game. Both are also accomplished Illustrators. The conversation was recorded on Sunday of Small Press Expo this past September. Ron Wimberly was also around and is in the episode and we all cover a lot stuff like how they started, their group of peers, making illustration and views on the comics industry and making work in general.
Twitter: @itskindred @richiepope
instragram: @richiepope @chris.kindred
websites: http://richiepope.com/  http://chriskindred.com/
Music in this episode:
All Night (Kaytranada extended edit) – Chance the Rapper feat. Knox Fortune
Get it Myself – D.R.A.M.
Cranes in the Sky (Kaytranada DJ edit) – Solange
Fall Playlist:
Spotify: https://open.spotify.com/user/julianlytle/playlist/2MJrcD2SCKm5F67gWPKyKc
Apple Music: Ignorant Bliss Fall 2016
Get at me @julianlytle on Twitter, IG, Snapchat, Tumblr, Soundcloud & Vine
My webstore: http://julianlytle.storenvy.com/
My threadless Artist Shop: https://julianlytle.threadless.com/
email the show at ignorantblisspodcast@gmail.com
Subscribe on iTunes – https://itunes.apple.com/us/podcast/ignorant-bliss-podcast-feed/id415595194?mt=2 also please leave a review if you can!
Also on Stitcher – http://www.stitcher.com/podcast/ignorant-bliss
Also on Soundcloud – https://soundcloud.com/julianlytle
Also on Google Play Music – https://play.google.com/music/m/Ipbp7daje4f62qiyzyfujoxhpwi?t=Ignorant-Bliss
Also on Mixcloud – https://www.mixcloud.com/julianlytle/
Also on the Taylor Network of Podcasts – http://taylornetworkofpodcasts.com/?s=ignorant+bliss&submit=Search
Also on BlogTalkRadio – http://www.blogtalkradio.com/ignorantbliss
Podcast: Play in new window | Download
Podcast (podcast-b): Play in new window | Download