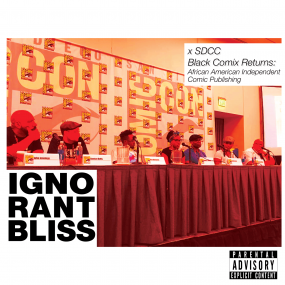 Here is another panel from this year's San Diego Comic Con. The Black Comix Returns. This is a lead in to a new book following up the Black Comix book that was released some years ago. The panel co-sponsored but Magnetic Press.
Check below for the SDCC Program description.
"Eisner nominee John Jennings (The Blacker the Ink) and Damian Duffy (Octavia E. Butler's Kindred), co-editors of the Black Comix art book, offer real talk about race and representation in independent comics publishing with the likes of 2016 Eisner nominee Ron Wimberly (Slave Punk, Prince of Cats), David Walker (Power Man & Iron Fist, Shaft), Ashley A. Woods (Niobe), Robert Love (Alpha Girl, S.P.O.O.K.S.), and Jeremy Love (Bayou, Fierce)"
The panel also included Shawna Mills.
Enjoy folks.
Black Comix Facebook – https://www.facebook.com/Black-Comix-African-American-Independent-Comics-Art-Culture-176182414211/
John Jennings – Tumblr http://jijennin70.tumblr.com/
Twitter @JIJennings
Damian Duffy – Tumblr http://j2d2arts.tumblr.com/
Twitter @DamianD2Duffy
Ronald Wimberly – http://ronaldwimberly.com/
Twitter @raynardfaux
David Walker – http://thedavidwalkersite.com/
Twitter @DavidWalker1201
Ashley A. Woods – http://ashleyawoods.com/
Twitter @Ashes_Art
Shawna Mills – http://www.lazymills.com/
Twitter @lazymills
Music in this episode:
You Are Luhhh – Frank Ocean
I Wonder If Heaven Got A Ghetto – 2Pac (Instrumental)
All the music copyright their respective owners
Summer Playlist –
Spotify:  Ignorant Bliss Summer 2016  
Apple Music: Ignorant Bliss Summer 2016
Get at me @julianlytle on Twitter, IG, Snapchat, Tumblr, Soundcloud & Vine
My webstore: http://julianlytle.storenvy.com/
My threadless Artist Shop: https://julianlytle.threadless.com/
email the show at ignorantblisspodcast@gmail.com
Subscribe on iTunes – https://itunes.apple.com/us/podcast/ignorant-bliss-podcast-feed/id415595194?mt=2 also please leave a review if you can!
Also on Stitcher – http://www.stitcher.com/podcast/ignorant-bliss
Also on Soundcloud – https://soundcloud.com/julianlytle
Also on Google Play Music – https://play.google.com/music/m/Ipbp7daje4f62qiyzyfujoxhpwi?t=Ignorant-Bliss
Also on Mixcloud – https://www.mixcloud.com/julianlytle/
Also on the Taylor Network of Podcasts – http://taylornetworkofpodcasts.com/?s=ignorant+bliss&submit=Search
Also on BlogTalkRadio – http://www.blogtalkradio.com/ignorantbliss
Podcast: Play in new window | Download
Podcast (podcast-b): Play in new window | Download