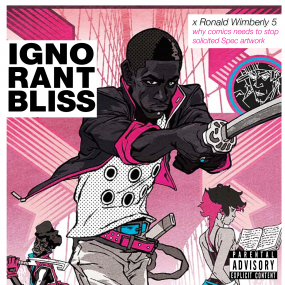 So a few weeks back Ron posted a piece of writing on Tumblr called "Stop doing spec pages: Why DC, Marvel, Boom etc. should pay you for your test pages." He wrote about how the Majors of the comic book industry shouldn't solicit free spec pages from artists they might want on their comics. We talk that and some of the discussion it caused in some places online. We go into more comic business ethics talk and identity within the culture of comics. There are some tangents on film and television.
The post: http://d3-14.tumblr.com/post/146812301568/stop-doing-spec-pages-why-dc-marvel-boom-etc
A follow up post: http://d3-14.tumblr.com/post/146881281348/corporations-should-pay-for-the-samples-they
Links: http://ronaldwimberly.com/
@raynardfaux | Twitter
@ronaldwimberly | Instagram
Prince of Cats Image Comics page | https://imagecomics.com/comics/releases/prince-of-cats-hc
Music in this episode:
You Are Luhhh – Frank Ocean
I Got The Keys – DJ Khaled featuring Jay-Z and Future
No Problem – Chance the Rapper featuring 2 Chainz and Lil' Wayne
THat Part – Schoolboy Q featuring Kanye West
4PM in Calabasas – Drake
All Nite – Clams Casino featuring Vince Staples
Lockjaw – French Montana featuring Kodak Black
All the music copyright their respective owners
Summer Playlist Spotify: Ignorant Bliss Summer 2016  Apple Music: Ignorant Bliss Summer 2016
Get at me @julianlytle on Twitter, IG, Snapchat, Tumblr, Soundcloud & Vine
My webstore: http://julianlytle.storenvy.com/
My threadless Artist Shop: https://julianlytle.threadless.com/
email the show at ignorantblisspodcast@gmail.com
Subscribe on iTunes – https://itunes.apple.com/us/podcast/ignorant-bliss-podcast-feed/id415595194?mt=2 also please leave a review if you can!
Also on Stitcher – http://www.stitcher.com/podcast/ignorant-bliss
Also on Soundcloud – https://soundcloud.com/julianlytle
Also on Google Play Music – https://play.google.com/music/m/Ipbp7daje4f62qiyzyfujoxhpwi?t=Ignorant-Bliss
Also on Mixcloud – https://www.mixcloud.com/julianlytle/
Also on the Taylor Network of Podcasts – http://taylornetworkofpodcasts.com/?s=ignorant+bliss&submit=Search
Podcast: Play in new window | Download
Podcast (podcast-b): Play in new window | Download